She'll do anything to protect her family…
Libby Curtis never wanted children, until she met Nathan, a gorgeous widower with two young children. Now ten years later she can't imagine her life without Sam and Sienna – she'd do anything for her precious kids. Anything….
So when a missing teenager is found lying on the side of the road, Libby's first thoughts are for her own kids. Are they safe? Are they home?
What Libby doesn't expect is for her children to be involved in the girl's disappearance. But when she discovers an item in her stepson's car linked to the victim Libby's fears increase.
She can't believe that the sweet boy she's raised could do something like that. But if not Sam….who? Libby must discover the truth before her family is ripped apart. But someone is determined to make sure their secrets stay hidden – even if the consequences are deadly…
Out 30th October 2023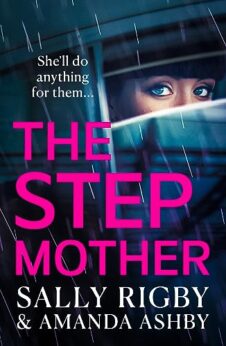 Welcome to my home on the Internet. I have written 25 books in a variety of genres including Romance, Young Adult and Middle Grade before discovering my love of domestic thrillers and mysteries. Turns out that it's fun figuring out the best places to bury a body. My latest books are co-written with a dear friend, Sally Rigby. I also work as a freelance developmental editor, mentor and book coach so if you need help getting that story out of your head and onto the page, then check out my coaching page.
"It's The Lovely Bones meets Bridget Jones in this fluffy take on what happens after death."

Publisher's Weekly You Had Me at Halo
'The exciting plot, humor throughout—often provided by the little fairies—and relatively innocent romance between characters will grab readers and keep them involved.'

Kirkus Fairy Bad Day
'Ashby's clever dialogue and familiarity with all things Joss Whedon (creator of Buffy the Vampire Slayer) combine to create a light and addictive tongue-in-cheek homage to both standard romance novels and all things Goth.  Ashby's deft, light tone and appreciation for the confining rigidity of high-school class structure drive this predictable yet highly entertaining tale.'
Booklist Zombie Queen of Newbury High
'With interesting characters and a fresh plot, this absorbing read addresses everything from peer pressure to intelligent guy pals to self-reliance, with just enough paranormal activity to maintain an edge. The message never overwhelms the fun in this frothy paranormal romp.'
Kirkus Demonosity